Foreword by Mark Leslie, founder of Veritas Software, Leslie Ventures
If you are a professional salesperson, sales manager or director, vice president of sales or marketing, CEO, or anyone supporting selling efforts, this book is for you. If you are a senior executive, consultant, venture capitalist, board member, entrepreneur or aspiring up-and-comer, you should know the updated tools, language and tactics of selling in today's market.
Super Star Press, 2009, 2013. Available at Amazon.com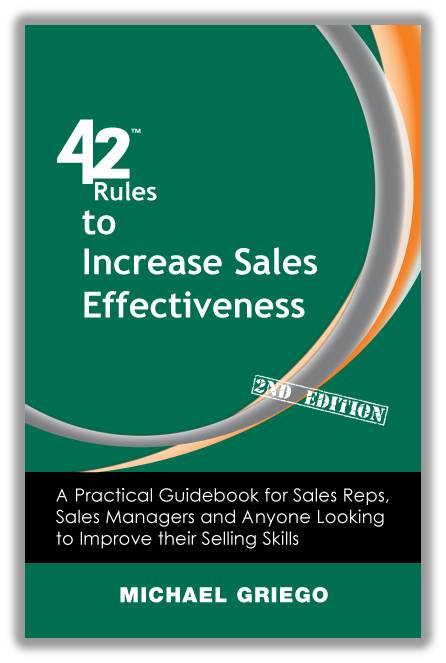 In this book:
Effective Sales Perspective (5 Rules)
Effective Sales Process (6 Rules)
Effective Salesperson (7 Rules)
Effective Territory Management (6 Rules)
Effective Sales Communications (6 Rules)
Effective Sales Meetings (6 Rules)
Effective Closing (6 Rules)
As a professional sales consultant and trainer to Fortune 500 firms and leading Silicon Valley technology firms, Michael Griego has reduced the keys to sales effectiveness to 42 rules. These rules have been road tested over decades of personal sales and management experience and close observation and training of thousands of salespeople, sales managers and executives in organizations around the world. These rules apply to all selling efforts, from high-tech enterprise sales to non-technology sales.
Super Star Press, 2009, 2013
Testimonials
"We see Mike Griego is the best-in-class sales thought leader. I highly recommend this book to anybody interested in building a best-in-class sales organization."
"…a worthy tool for today's sales reps, sales managers and executives."
"Mike Griego full understands that you never graduate from selling! By following his 42 Rules, you will be educated on the best practices of the sales professional."
"I highly recommend this book to anyone who needs to sell."
"Mike has been able to capture and articulate the art and science of selling…"
"This book may be the ultimate blue-print for constructing a successful career in sales – it's that good. Buy it, read it, buy one for a friend. It's both motivational and instructive. It will be a classic."